Salem Cemetery Association
The Salem Cemetery Association is dedicated to maintaining the Salem Cemetery. The cemetery is located at 24 Hwy and Blue Mills Road, just east of Independence, MO. The information on this site is provided for interested individuals and their family members. The members of the Association volunteer their time to oversee the operation of the cemetery and provide for its upkeep.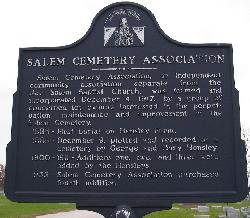 See a larger image of the marker.
---